Entering Thailand is not as easy as before COVID-19 existed. Now, there are multiple travel restrictions present, and travelers had to gather numerous required documents. Included in the required documents is the Certificate of Entry (COE), a certificate required to be obtained by anyone who will enter Thailand which requires time, effort to process and patience.
The Ministry of Foreign Affairs (MFA) in collaboration with the Digital Government Development Agency (DGDA) is currently developing the Thailand Pass System to replace the Certificate of Entry (COE) system.
With the proposed full reopening of Thailand, along with its easing restrictions and the goal to revitalize the economy, Thai Authorities are planning to replace the slow-paced COE system with a faster Thailand Pass system to be used starting on November 1, 2021.
What Is Thailand Pass
The Thailand Pass system is a free-of-charge web-based system designed to make the documentation process of travelers entering Thailand more efficient than the Certificate of Entry application.
Just like the Certificate of Entry, it will collect data for entry forms required, but what makes it better than the Certificate of Entry (COE) is that it collects both travel and health information like vaccine certificates and it will help facilitate the filing of the TM6 and T8 Forms.
Through the Thailand Pass system, the expected documents and other paperwork requirements imposed on by the COVID-19 will be addressed.
The goal of the new Thailand Pass is to help support the country's "Ease of Travel" system after it reopens and to expedite the process of filling out information and uploading travel documents.
Who Can Apply for the Thailand Pass
The Thailand Pass is required for all travelers whether Thai or foreigners based on the following travel restrictions:
Fully Vaccinated from the Listed Countries
Fully vaccinated travelers, both Thai and foreigners will be allowed to enter Thailand without mandatory quarantine or sandbox stay. They only need to stay for 1 night in an ASQ or SHA+ Hotel while they wait for the COVID 19 RT-PCR test result that was taken upon arrival.  The quarantine-free program is initially available for low-risk countries, and currently, there are 63 countries on the list. You must have stayed in these countries for at least 21 days before traveling to Thailand (except for those who traveled from Thailand). Unvaccinated children below 12 years old may travel with vaccinated parents without quarantine.
Fully Vaccinated under Sandbox Program (for all countries)
Fully vaccinated travelers who are coming from non-listed countries are eligible to enter Thailand without quarantine. They must enter Thailand under the Sandbox Programs such as Bangkok, Pattaya, Hua Hin, Chiang Mai, Phuket or Samui Sandbox. They are required to spend a minimum of 7 nights in an accredited SHA+ Hotel in these Sandbox areas before they will be allowed to travel to other parts of Thailand. Unvaccinated children above 12 years old but below 18 years old may travel with vaccinated parents without quarantine under the sandbox program.
Non-Vaccinated under Quarantine Program
Non-vaccinated or partially vaccinated travelers are still allowed to travel to Thailand. They must undergo a mandatory quarantine of 10 nights in an accredited ASQ or AQ quarantine hotel before they will be allowed to travel to other parts of Thailand.
What are the Requirements for the Thailand Pass
In support of the "Ease of Travel", there are only a few requirements that one will need to be able to obtain a QR entry code and enter Thailand. Listed below are the requirements:
Passport
Vaccination Certificate or Card
COVID-19 Health Insurance Certificate
Confirmed ASQ hotel booking or Confirmed SHA+ hotel booking (with pre-booked RT PCR test)
Flight Booking
How to Apply for Thailand Pass
The Thailand Pass System is a QR code generating system.
To obtain a QR entry code or Thailand Pass ID, travelers will have to:
Register at Thailand Pass web portal
Input personal details
Upload the required documents
Receive a confirmation email after registration (within seconds after registration)
Wait for the Thailand Pass approval (within an hour or up to 7 days)
And if approved, you will receive an email of your QR Entry Code or Thailand Pass ID which you will use upon entering Thailand.
1. Apply for Thailand Pass by Yourself
You may apply for the Thailand Pass directly on the MFA website: https://tp.consular.go.th/
If you have already applied by yourself and you need to check the status, please go to: https://tp.consular.go.th/en/check-status
2. Thailand Pass Application Service by Siam Legal
Application for the Thailand Pass is free-of-charge and you do not need any assistance to apply for it. However, there may be instances where some individuals may voluntarily choose a paid service provider such as a law firm to provide consultation, assist them to prepare their documents, and submit them on their behalf. Individuals may encounter problems with their documents that are not being uploaded properly or some information or documents that are deemed unacceptable to the Thai embassy or consulate that may cause delay or rejection of your Thailand Pass application, so it may be helpful to retain a service provider to assist you with the application. These paid Thailand Pass services offered by Siam Legal are listed below.
How long does it take to Process the Thailand Pass
The processing time for the Thailand Pass application is 5 to 7 days depending on the Thai Embassy or Consulate where the application has been submitted. It is recommended to apply for the Thailand pass at least 7 days before your intended departure.
Regulations on Entering Thailand from 1 November 2021 onwards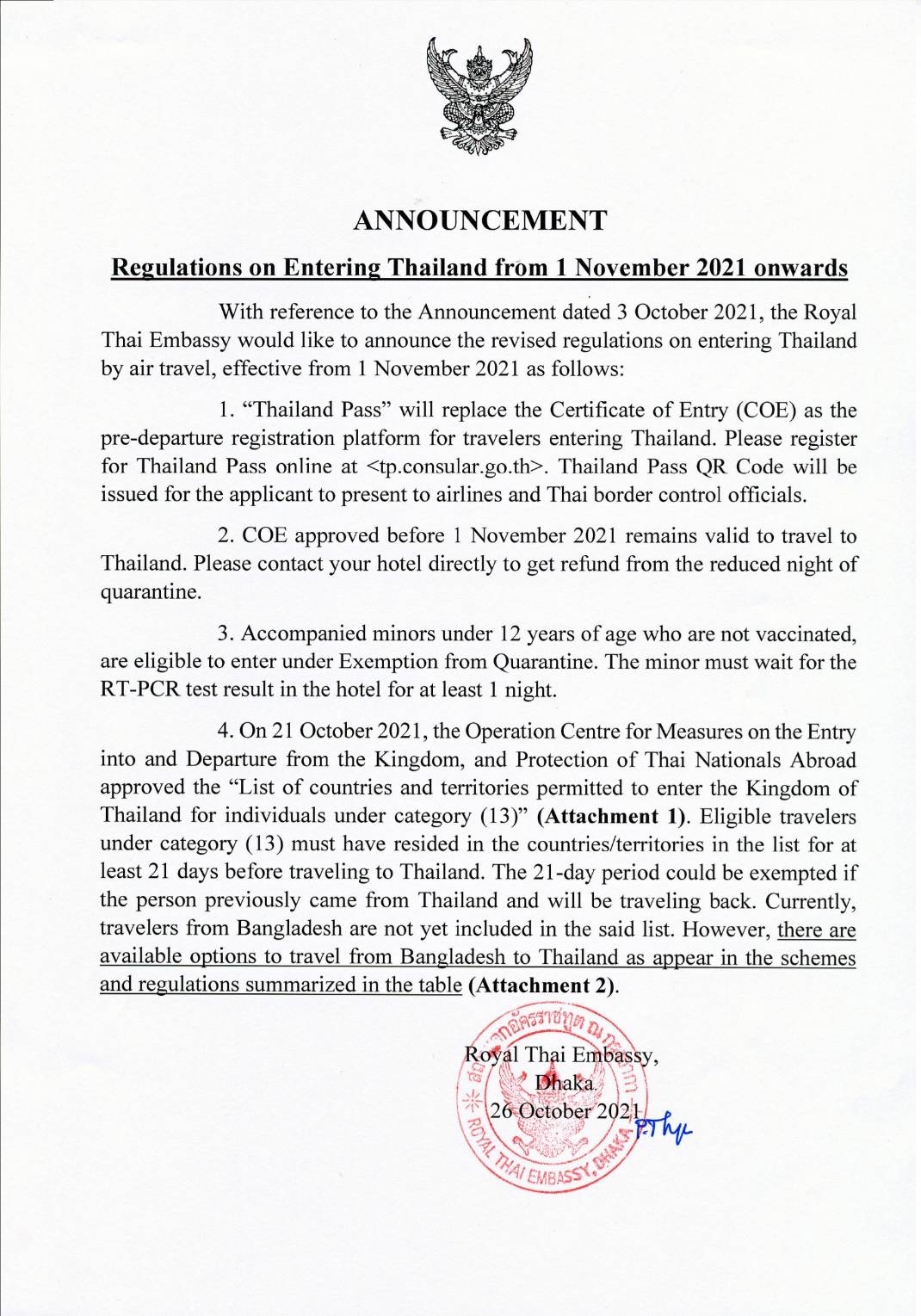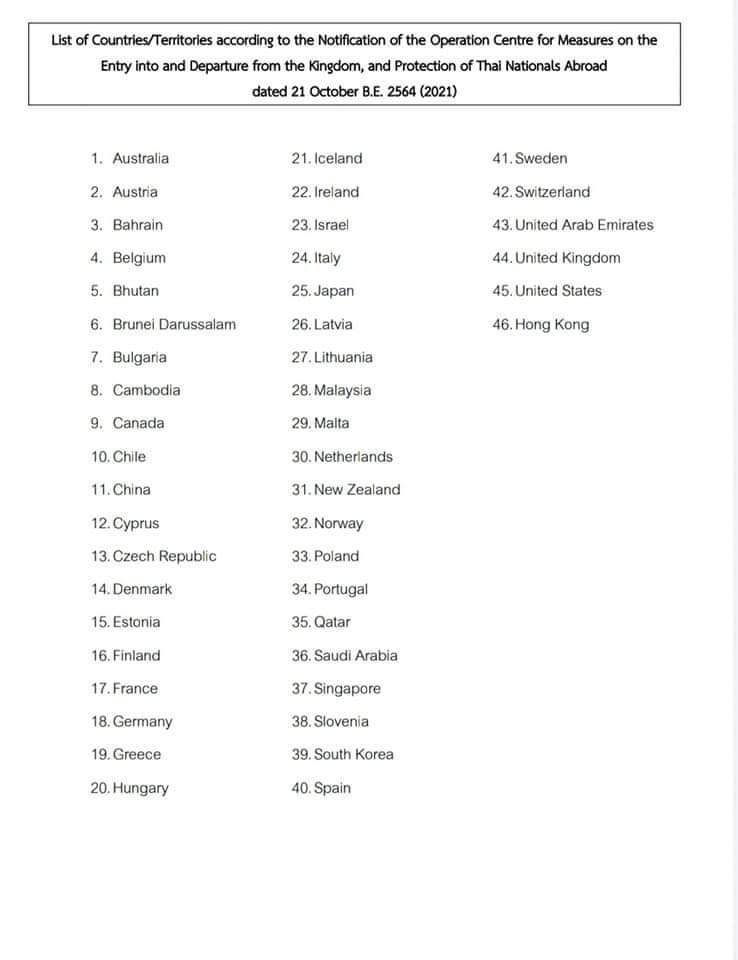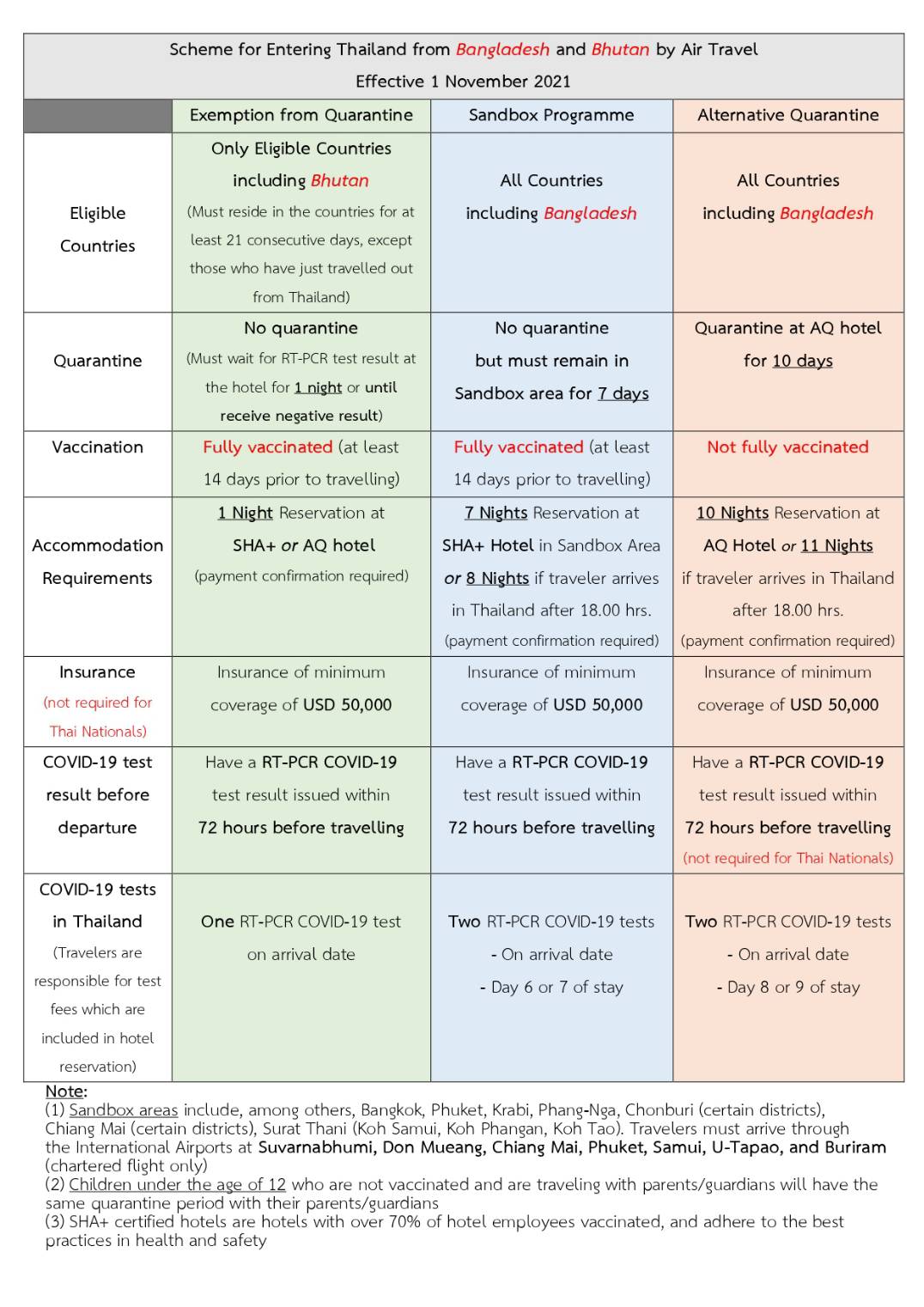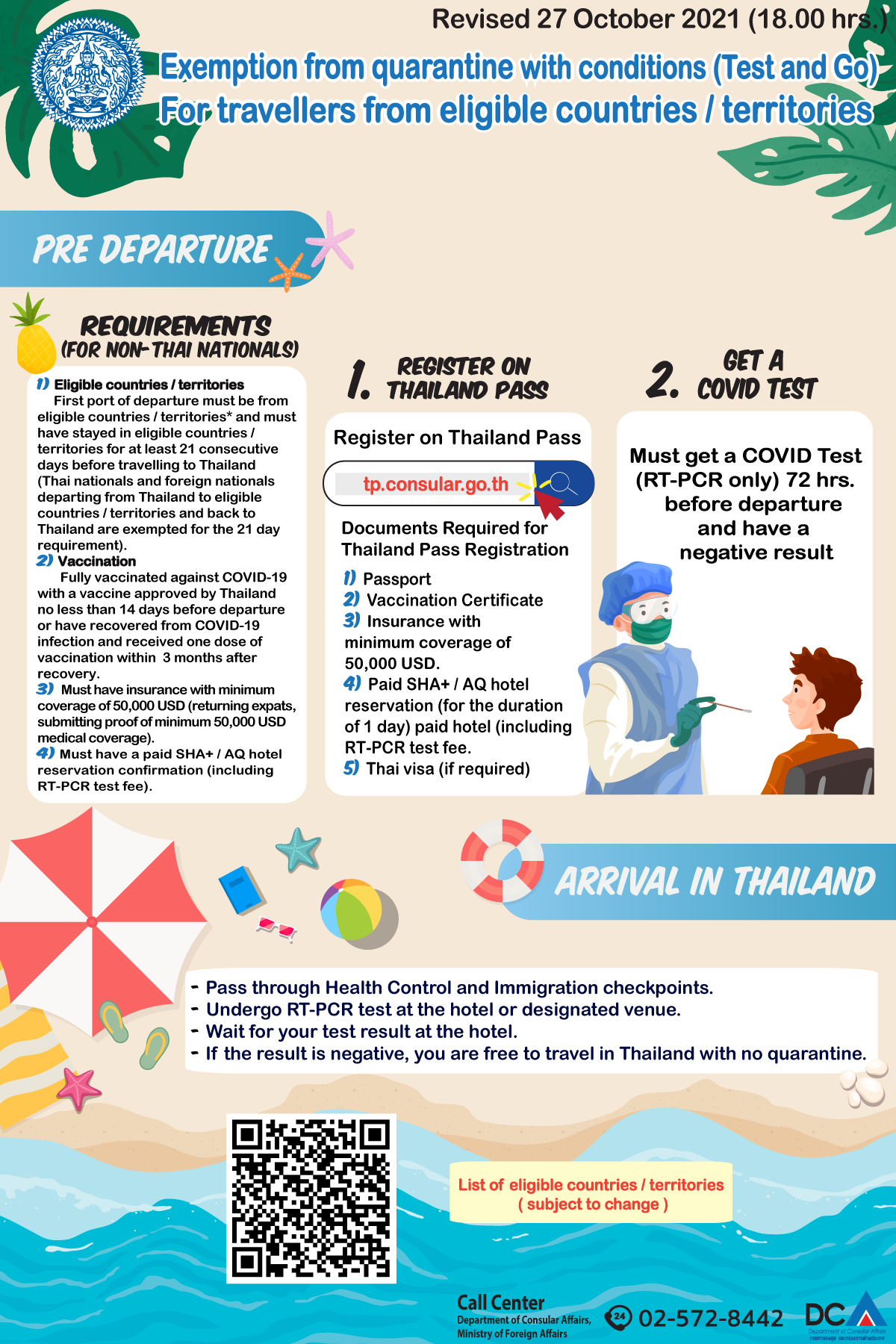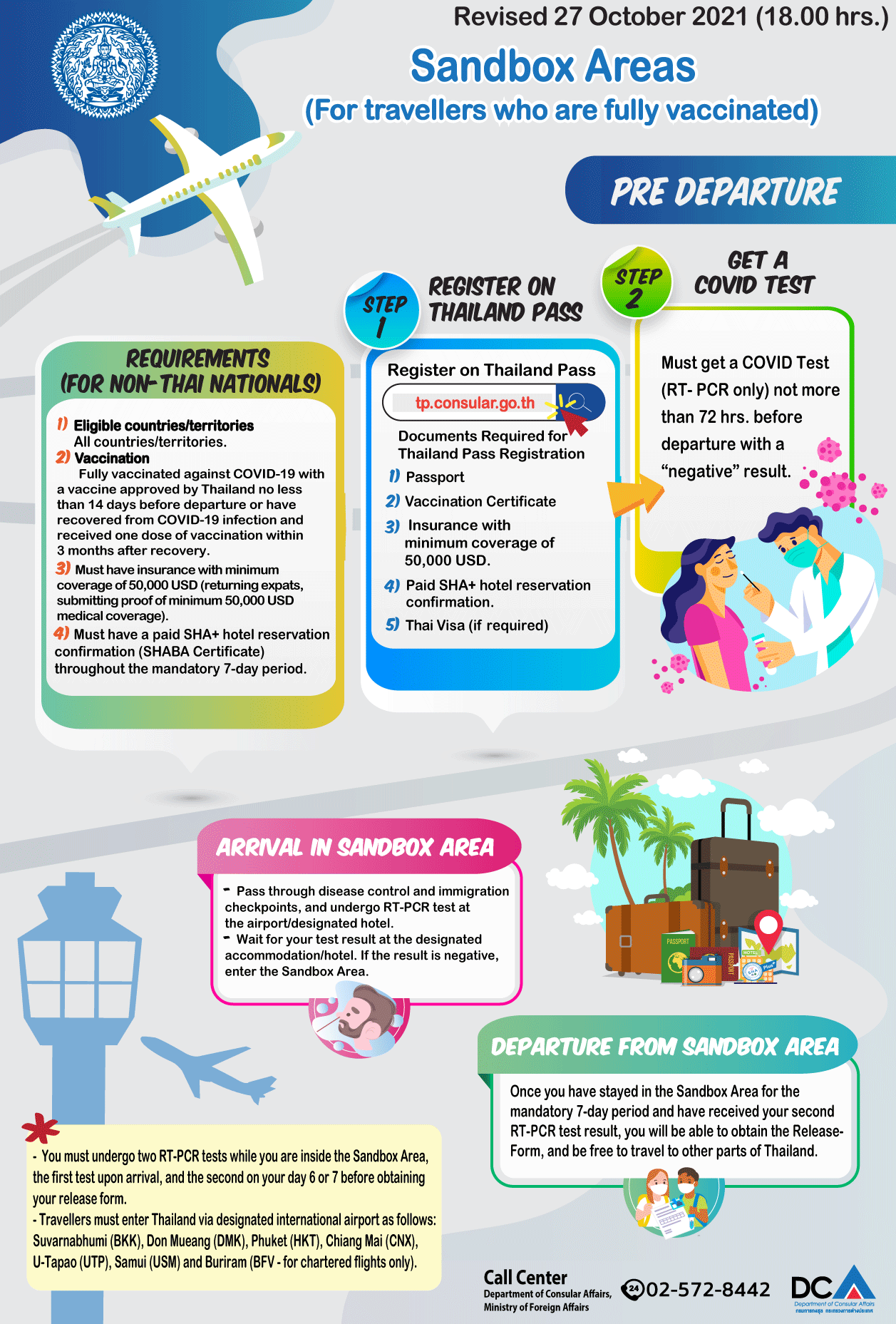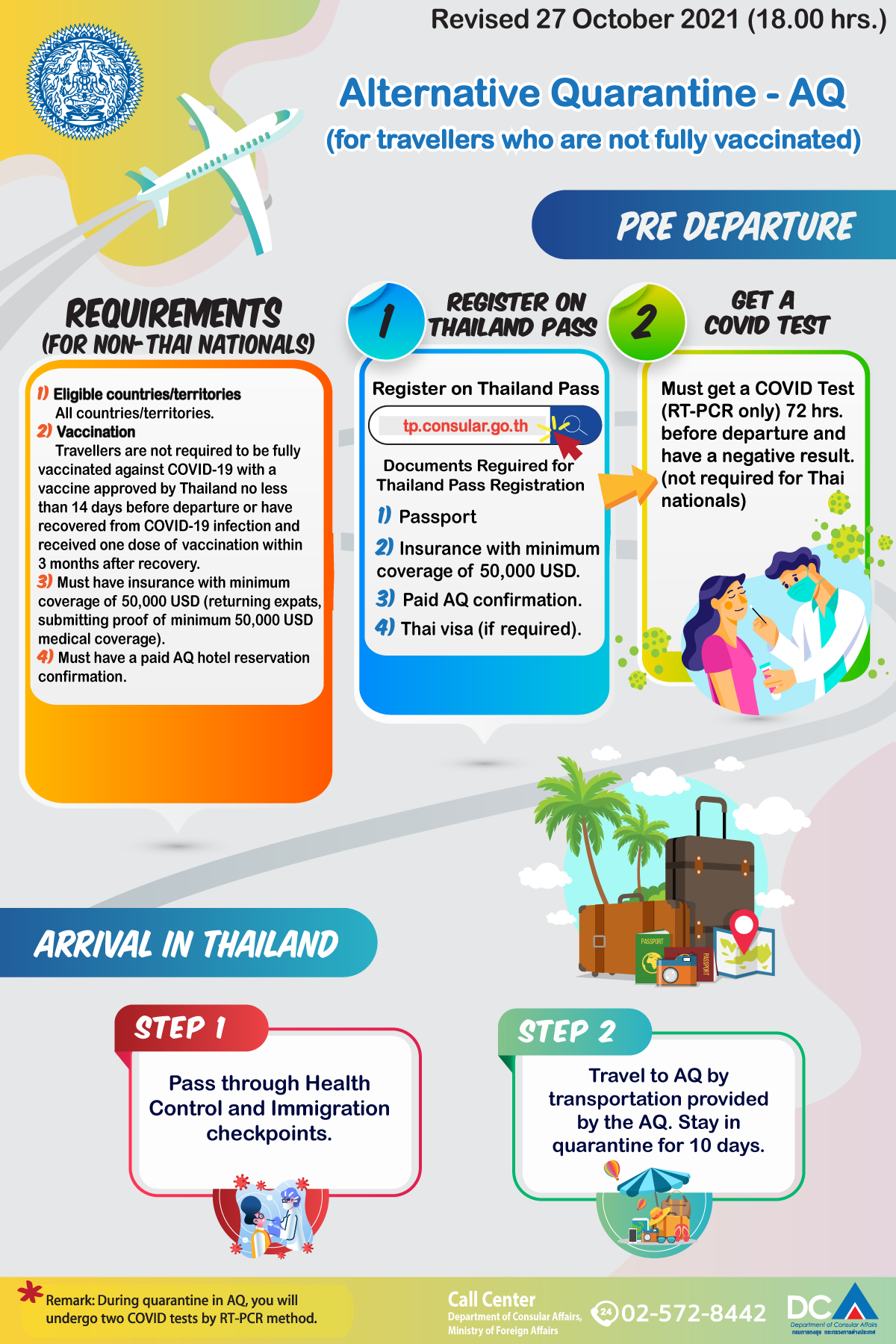 Regulations on Entering Thailand from 1 November 2021 onwards
*Fully vaccinated travellers* from Bangladesh are eligible to enter Thailand on the Sandbox scheme. Under this scheme, travellers (after receiving negative RT-PCR test result) can travel within a designated Province/district during the first week before traveling freely elsewhere in Thailand.
Please see the list of Sandbox areas (as of 21 October 2021), as follows:
    1. Bangkok
    2. Krabi
    3. Chonburi (only Banglamung District, Pattaya, Sri Racha District, Koh Si Chang, Sattahip)
    4. Chiang Mai (only Muang District, Doi Tao, Mae Rim District, Mae Taeng District)
    5. Trad (only Koh Chang District)
    6. Buriram (only Muang District)
    7. Prachuap Khiri Khan (only Hua Hin and Nong Kae Sub District)
    8. Phang-nga
    9. Phetchaburi (only Cha-am District)
  10. Phuket
  11. Ranong (only Koh Phayam)
  12. Rayong (only Koh Samed)
  13. Loei (only Chiang Khan District)
  14. Samut Prakan (only Suvannabhumi airport area)
  15. Surat Thani (Koh Samui, Koh Pha Ngan, Koh Tao)
  16. Nong Khai (only Muang District, Sangkhom District, Si Chiang Mai District, and Tha Bo District)
  17. Udon Thani (only Muang District, Ban Dung District, Kumphawapi District, Na Yung District, Nong Han District, Prachaksinlapakhom District)
Any further queries, please contact <visa.dac@mfa.mail.go.th>
Thailand Test & Go No more Quarantine No more RT PCR test on Nov 27, 2021