ASIAN INSTITUTE OF GASTROENTEROLOGY
Hospital Address : 6-3 661, Somajiguda, Hyderabad – 500 082. Andhra Pradesh India
Overview
Asian Institute of Gastroenterology was established as a new concept of day care unit where major Endoscopic surgical procedures could be done on an outpatient basis without resorting to hospitalization. Since then the institute has become one of the largest referral centers in Asia for Therapeutic Endoscopy. Patients are referred from not only most cities in India but also from surrounding countries like Sri Lanka, Bangladesh, Malaysia, Nepal etc.,

It has the credit of doing the largest number of ERCP procedures in the world. In addition to routine gastrointestinal procedures like Endoscopy, Colonoscopy, ERCP (Diagnostic & Therapeutic). Our institute is one of the few centers in the country doing Endoscopic Ultra Sonography, Endoscopic Sewing, Capsule Endoscopy and E S W L (Extra corporeal Shock Wave Lithotripsy ).
Medical Gastroenterology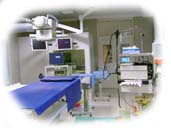 Medical gastroenterology which includes endoscopy services occupies the pride of place at Asian Institute of Gastroenterology. Staffed by eight senior consultants and eight registrars and headed by Dr DN Reddy , it offers excellent round the clock services for patients . The Department of Medical Gastroenterology can be grouped under the following heads.

1. Out Patient Services
2. Endoscopy Services
3. Day Care Services
4. In Patient Services Including Intensive Care Unit
5. Specialized Procedures
Out Patient Services :
These include department of Medical Gastroenterology and Hepatology and on an average of 600 patients attend these services every week . All relevant blood tests endoscopy and radiology procedures can be carried out on O.P basis in ambulatory patients and those not requiring admission .The services run from 8AM to 11PM.
In-Patient Services :
AIG has provision for 280 in-patients which include Medical Intensive Care unit (MICU) � Medical Gastroenterology emergencies such as GI bleed, hepatic coma, severe pancreatitis, acute abdomen etc.., are admitted in the MICU with round the clock monitoring and availability of qualified doctors and personal at the bed side .Facilities for ventilatory support, renal and liver dialysis are available in the MICU.
A 30 bedded ward where room charges and Doctors fees are exempted is available for the lesser privileged and deserving patients.
Subspecialties
Hepatology and Nutrition:
Faculty: Dr PN Rao, Dr Rajesh Gupta, C.S.Madhulika
Consultation timings:
Location: 1st Floor, AIG
Phone: 23378888

IBD Clinic:
Faculty: Dr(Mrs) Rupa Banerjee
Other Specialties
Though our hospital is an Exclusive gastroenterology Hospital meant to deliver world class care in gastrointestinal related problems, we have all other specialties which will offer care for our patients round the clock if required.
Cardiology
Medical Oncology
Surgical Oncology
Urology
Nephrology
Pulmonology
Endocrinology
Paediatric Surgery
Obstetrics & Gynecology
Paediatrics
Cardiothoracic surgery
Neurology
Vascular Surgery
ENT
The concerned specialist will examine by appointment, you will be guided regarding the same by our staff. The charges for the consultation other than gastroenterolgy will be levied separately.